Meet a Homecare Member-Owner
On May 11, 2023, we spent some time with worker, Vicenta Alvarez to hear about her experience as a home care worker and member owner of CHCA.
Vicenta Alvarez, CHCA Home Care Worker, Mother, Wife, Advocator, & Worker-Owner.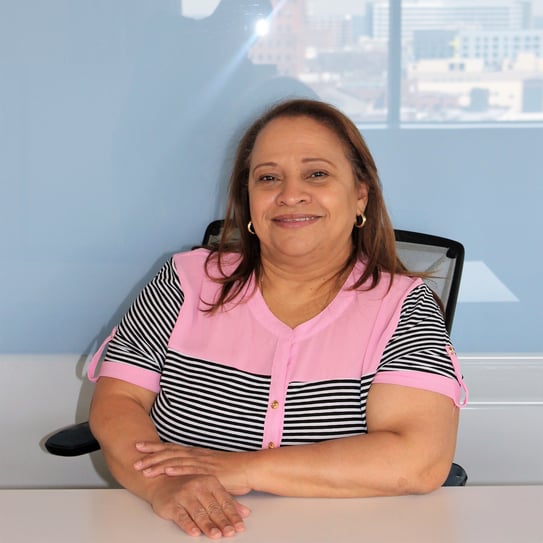 How did you become a Homecare worker?
"I started with taking care of my grandmother growing up in Puerto Rico. My grandparents lived long lives, they lived to be 109 and 107! My siblings and I were responsible for taking care of them. I was responsible for bathing and feeding my grandma. When I decided to move to New York from Puerto Rico, I found work in home care taking care of a friend of the family. I heard from this friend that CHCA was providing FREE home care training. I registered for the training in 2001 and I have been here ever since! I really love this job and would not change it for any other type of work."
You have been working at CHCA for 22 years, what keeps you here?
"I have stayed at CHCA because CHCA is a family to me. I have been involved in different roles and activities at CHCA, all of which I deeply enjoy. I have served as a board member multiple times, and I was a member of CHCA's Policy Action Group. For the last two years, I have been an active member of the NY Caring Majority; an advocacy group focused on increasing Homecare workers' salaries. I participate and represent CHCA at outside cooperative movements and meetings. I attended the annual Home Care Conference in Virginia where I meet many other members from different cooperatives. I enjoy being a homecare worker and supporting people who rely on us to stay healthy as well as advocating for us as workers and helping our communities and government understand the importance of our work and the need for higher wages."
What do you like most about your job as a Home Care Worker?
"I like to help, support, and assist those in need of my services. I was raised on the mantra Ayudar al projimo! (Spanish for Help your Neighbor!)."
What kind of services do you provide your current client, Vanessa?
"I am Vanessa's hands and feet. I bathe her, clean her home, remind her of her medications, run errands, and take her to her medical appointments. I am the person that Vanessa has confidence in – confidence that I will take good care of her, and transition her to her bed, wheelchair, living room, etc. We are different but we also are the same. We have a lot of things in common. We like the same music and TV shows, and we both have a good sense of humor."
Why is being a worker-owner important to you?
"I have the right to vote – especially for those workers that run for the board and are representing me. I can also represent us, worker-owners as an elected Board member. I have a voice in making decisions that impact our organization."
If there was one thing you wished the world knew about home care work, what would it be?
"Home care workers provide excellent services to those in need. I would encourage people to think twice about sending their family members to a nursing home. People deserve the right to age and stay in their homes, and Homecare workers are instrumental in allowing people to stay in the comfort of their own homes."
Learn more about why worker ownership makes the difference.