Background

Since January 2020, Cooperative Home Care Associates (CHCA) has participated in a campaign called Fair Pay for Home Care to advocate for home care workers to earn 150% of the local minimum wage. At that time, we were advocating for workers' salaries to increase from $15 an hour to $22.50 per hour. This campaign was created and led by a coalition named NY Caring Majority, composed of older adults, people with disabilities, home care workers, family caregivers, 1199, and others concerned about New York State's home care shortage.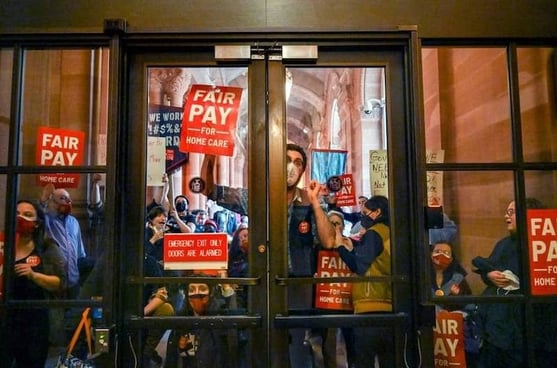 NY Caring Majority members in the Capital advocating for Fair Pay.
In last year's state budget, Governor Hochul announced a $3 in total wage increase over two years for home care workers, including Consumer Directed Personal Assistance (CDPA) personal assistants; indexed to future raises in the state minimum wage. Unfortunately, this increase was still not enough, NYS continues to face the largest shortages of home care workers in the nation, and our population continues to age.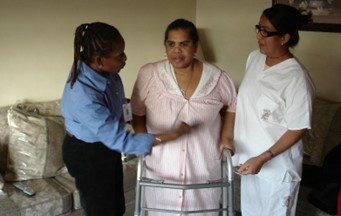 CHCA Registered Nurse, Jeannette Mitchell demonstrating safety precautions to worker and client.
Governor Hochul Announces Fiscal Year 2024 State Budget

On February 1, 2023, we tuned in to hear Governor Hochul plans for FY 2024 Executive Budget. Although Governor Hochul announced that money will be allocated for the health sector, disappointingly, there was no mention of home care and no monies allotted for future increases. Instead, we learned that the Governor is working to increase New York's Minimum wage to Inflation. What does this mean for Home Care? After her initial proposal of paying home care workers $3 above the state's minimum wage; the Governor's plan to increase New York's Minimum Wage will defer home care back in time and home care will once again become a minimum wage-paying job/career.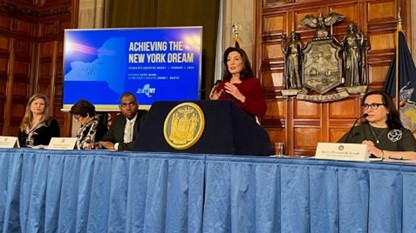 Governor Hochul held a press conference to announce the NYS Budget.
Back to Albany

On February 6, 2023, our team of home care workers, union members, people with disabilities, older adults, and other activists headed to the state capital to hold a Press Conference alongside various legislators. The press conference was co-emceed by one of CHCA's workers, Zulma Torres, who talked about the vital tasks she performs with her clients. She also spoke about the worker shortage and the impact it is having on older adults and people with disabilities. We also heard from a number of legislators that are advocating for higher wages stating that workers deserve to earn more and live a better life. In addition, at the press conference, consumers shared how this increase would help stop the shortage and allow them to stay at home instead of being transitioned into a nursing home. Many of them depend on the care of home care workers to be able to live a productive life at home.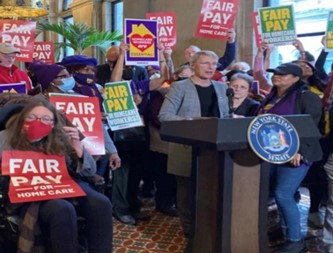 CHCA's Zulma Torres introduced Senator Rachael May at the Press Conference.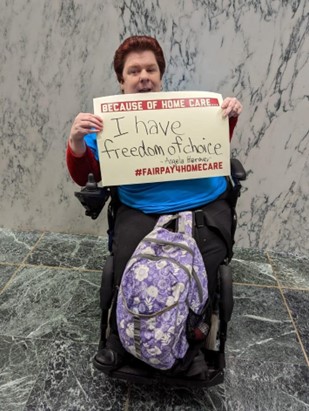 Consumer Angela Harmer expresses her need for Home Care.
Connecting with our Legislators
Throughout the day we meet with various legislators one on one to secure their support for the Fair Pay for Home Care Bill S3189. We were able to communicate why this increase is important, the impact on both workers and consumers, and the need for the legislators to continue to advocate during budget sessions.

Bronx Senator Jamaal Bailey shares his thoughts on Home Care.
CHCA will continue to advocate until our workers and workers across the state receive a decent increase in their wages as they rightfully deserve. They are essential workers, and their jobs are impactful in our communities.
In the News
For more information on the press conference held on February 6 at the state capital, please see the link below!
Lawmakers want increased pay for home care workers in budget (spectrumlocalnews.com)