A Perfect Match Made In Home Care
On May 2, 2023, we spent time with a long-time client, Vanessa Cruz. Vanessa Cruz is a Mother, Wife, Daughter & Person Living with a Chronic Illness. She shares her experiences working with CHCA for the past 9 years.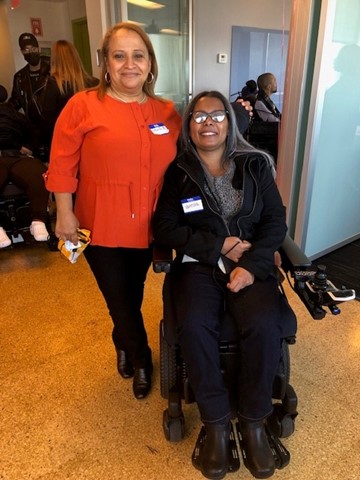 Home Care Worker, Vicenta Alvarez with CHCA Client, Vanessa Cruz attending a Fair Pay Luncheon.
How did you decide to get services from CHCA?
"When my condition started to progress, I began to receive home care from other agencies. They used to send me many different workers, and I was not satisfied with them for different reasons. I finally got connected to CHCA, and it was my experience with the workers that has kept me here for nine years."
What has made you stay with CHCA versus going to another company?
"An example of something that has made me stay at CHCA was during the pandemic, CHCA did not leave me alone, I had someone here every day. It was a scary time for both the patient and the workers. Many workers were jumping ship, but CHCA did not leave me hanging; I appreciated that so much. CHCA was a lifesaver."
What has it been like receiving services from HCW Vicenta Alvarez for the past six years?
"It has been a God-sent because I need assistance with everything. Vicenta has been working as my home care worker for a very long time. I depend on her and all the other workers that come in to provide me with services. They help me get out of bed, keep me clean and well-fed. They dress me and take me to my medical appointments and help me live as normally as possible in my state."
What are some of Vicenta's qualities that you appreciate the most?
"Vicenta and the other home caregivers that support me are very personable and have a great personality which is wonderful especially since we are spending more than ten hours a day with each other. They have become my family; I have spent more time with them than with my relatives. It's good to be with folks that are not only helping me physically but also mentally, they also support my emotional state. I am grateful to them; they are with me when I am at my most vulnerable state. I have a good sense of humor so I also appreciate Vicenta's sense of humor. Laughter is important."
You often participate in CHCA-sponsored events and now in this interview, what inspires you to participate in these events?
"I know that this kind of work is not easy, I appreciate all the services that workers provide for me. I know that expenses are high for everyone, but HCW's compensation should be above standard. HCWs should not be working multiple jobs to provide for their families. I am here to help advocate for a better wage for them to help them meet their needs. Their salaries should reflect their work. I would not want to be in their shoes; walking into strangers' homes and not knowing what to expect. This is a difficult job, some days I am good and some days I am not, and either way, they remain around me. I appreciate their work very much and they should be fairly compensated for the vital services they provide."
If there was one thing you wished the world knew about home care, what would it be?
"Without Home Care, all of us in my condition or worse would be in a devastating state. We need that connection, we need that assistance, we need that attention, and we need to feel like we still matter. Workers need to know that they matter as well!"
We at CHCA continue to work on delivering quality home care services to those in need, such as long-time client Vanessa Cruz. It is important for us to help our clients maintain their health and independence in the comfort of their own homes.
Our mission at CHCA is "Quality Care Through Quality Jobs", and since 1985, our organization has worked to ensure that we are creating solid jobs and delivering excellent home care services. Throughout the years, CHCA has provided home care services to thousands of clients. Our clients vary from needing short to long-term services while others are living with physical disabilities and chronic conditions and remain living independently in their homes and communities.